Invast Global is an award-winning multi-asset prime broker with offices around the globe. Established in Japan in 1960, our publicly listed Japanese parent company, Invast Securities Co, has 60 years of trusted history as a securities brokerage. Our deep Japanese heritage ensures we stay at the cutting edge of technology and best practice, while maintaining a strong culture embodying a dedication to service, diligence and innovation.
Equities | FX | Metals | Indices
Tier-1 Prime Broker Access
Invast Global has direct Prime Broker relationships with Tier-1 investment banks including JP Morgan, Credit Suisse, Barclays and Deutsche Bank. Due to our strong Prime Broker relationships, our clients are able to benefit from superior access to Global Exchanges and OTC Liquidity streams which include more than 20 Bank, Non-Bank and ECN providers.
Invast Global Multi-Asset Prime Brokerage
Transparency is the foundation of our service.
We are unique in the industry in offering complete pre and post trade transparency through to the underlying liquidity provider. We prioritise integrity and transparency in our relationships with our clients.
Our close partnerships with our liquidity providers ensure low spreads, fast execution and Tier-1 depth are made available to our clients.
We offer clients bespoke execution analysis on demand, giving them the knowledge and power to ensure they are accessing liquidity that is right for them. Clients can take a proactive role in curating their liquidity, or they can leave everything to us. Regular liquidity meetings allow our specialists to keep you completely abreast of the condition and effectiveness of your liquidity pool.
Focusing on ensuring your liquidity is properly constructed has the potential to unlock huge savings for your business.
Institutional Foundations
Invast Global has built a reputation for skilful construction of bespoke trading instruments. Our suite of cash and futures index and commodity CFDs is unrivalled, with new products being added monthly. Recent additions include a market-leading cash oil CFD and a volatility index CFD. Both of these products have been our most popular new launches.
Tied to the underlying futures markets, our index and commodity CFDs give clients the certainty and accountability that pricing is determined independently.
When it comes to data, Invast Global has done all the hard work for you. We act as the "Vendor of Record", allowing you to sign a single data agreement, covering your usage of the complete suite of exchange data.
Invast Global has, for many years, been leading the industry in supporting MT4 and MT5 brokerages around the world. Our expertise has allowed us to be at the forefront of unlocking the multi-asset capabilities of the Metaquotes platforms. With live exchange pricing and execution capability covering 30 stock and futures exchanges, combined with industry-leading liquidity in FX, Metals and Index and Commodity CFDs.
Our Direct Market Access (DMA) methodology means we pass our orders directly on to the underlying exchange, for exchange traded markets, and to our competitive pools of liquidity providers in OTC markets. This gives our clients transparency and better, faster fills directly into the true market.
Our proprietary Broker Portal makes single stock CFD operations stress-free. Corporate actions, stock borrow requests and market data are easily managed in a user-friendly online portal.
Exchange Traded Funds have shown enormous global growth over the last decade and the pace only appears to be quickening. ETFs are a great way to diversify your brokerage in a low leverage environment. They allow your clients to gain exposure to a range of investment strategies, geographic regions and asset classes, and can be bought and sold as simply as a share CFD.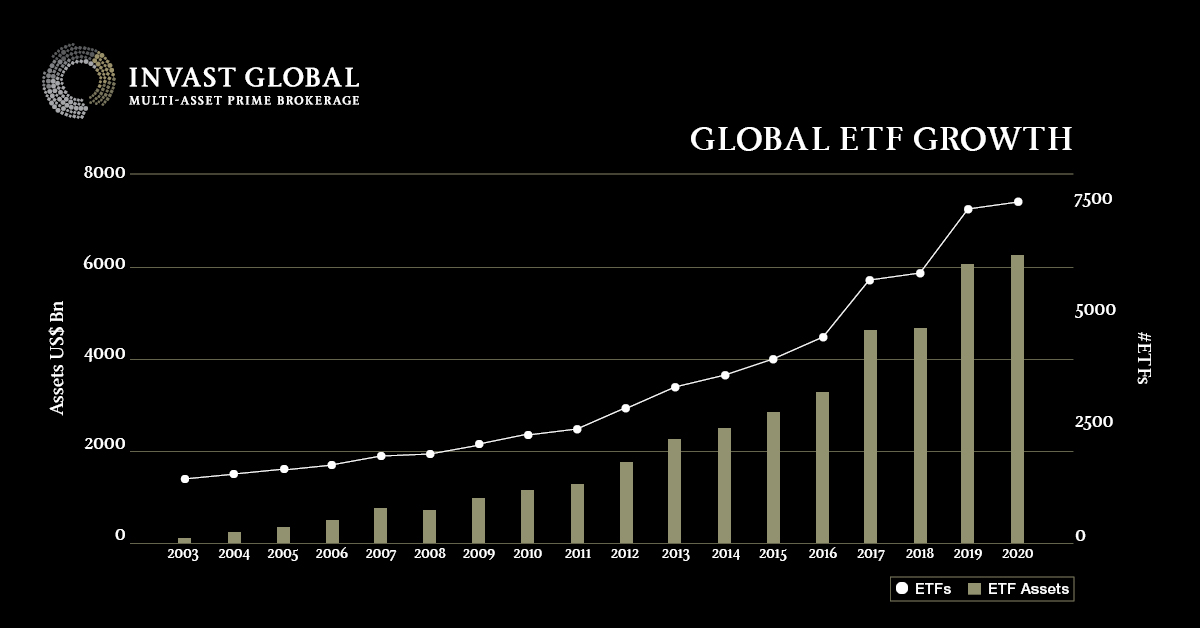 Invast Global provides access to state-of-the-art multi-asset trading platforms, including Flextrade MaxxTrader, IRESS, Bloomberg EMSX and MetaQuotes MT4/MT5. We also offer FIX and REST API solutions, to allow our clients to connect a proprietary or third-party GUI. Our API solutions also support a wide range of algorithmic & automated trading strategies.
Our proprietary trading servers located in dedicated environments within Equinix London (LD4), Tokyo (TY3) and New York (NY4) utilise direct
cross-connect to the trading servers of our prime brokers and to the technology of our clients. We enjoy strong relationships with leading trading technology vendors OneZero, Flextrade, PrimeXM, Refinitiv, IRESS and Bloomberg.
"Invast Global" is a registered trading name of "Invast Financial Services Pty Ltd". Invast Financial Services Pty Ltd (ABN 48 162 400 035) has an Australian Financial Services Licence (AFSL) issued by the Australian Securities and Investments Commission (AFSL No. 438283) which authorises it to carry on a financial services business in Australia. The information contained in this website is of a general nature only. The information does not constitute advice or a recommendation to act upon the information or an offer and does not take into account your personal circumstances, financial situation or needs. You are strongly recommended to seek professional advice before opening an account with us. Trading in FX and derivatives carries significant risks and it is not suitable for all investors. You may incur a loss that is substantially greater than the amount you invested. Please read our Financial Services Guide, Product Disclosure Statement, FX & CFD Terms & Conditions, Risk Disclosure and other disclosure documents on this website. You do not own, or have any interest in, the underlying asset. Fees, charges, brokerage and commissions apply, refer to our Fee Schedule for further details. We do not provide advice or recommend the acquisition or disposal of a CFD, and the products and services are provided on an execution only basis. We do not provide managed discretionary account services. Invast Financial Services does not accept applications from residents of Japan or the U.S. and does not directly solicit business in Japan or the U.S. This website is intended for persons located within Australia only and is not directed at any person in countries or jurisdictions where the offer of such financial products is not permitted or is unlawful.
© 2020 Invast Global All Rights Reserved
Sydney Office
Level 27, Aurora Place,
88 Phillip Street
Sydney NSW 2000
Australia
Tokyo Office
NBF Toranomon Building,
1-6-21, Nishishinbashi,
Minato-ku, Tokyo,
Japan 105-0003
Hong Kong Office
20/F, Tower 535,
535 Jaffe Road
Causeway Bay,
Hong Kong