In response to the implementation of the ASIC Product intervention Order (CFDs) 2020/986, Invast Global has implemented a new account structure, incorporating "Retail", "Sophisticated" and "Wholesale" account classifications.
The following table outlines our different account types.
To commence trading, you must complete the relevant investor assessment during onboarding. For more information on account type, please follow the links below: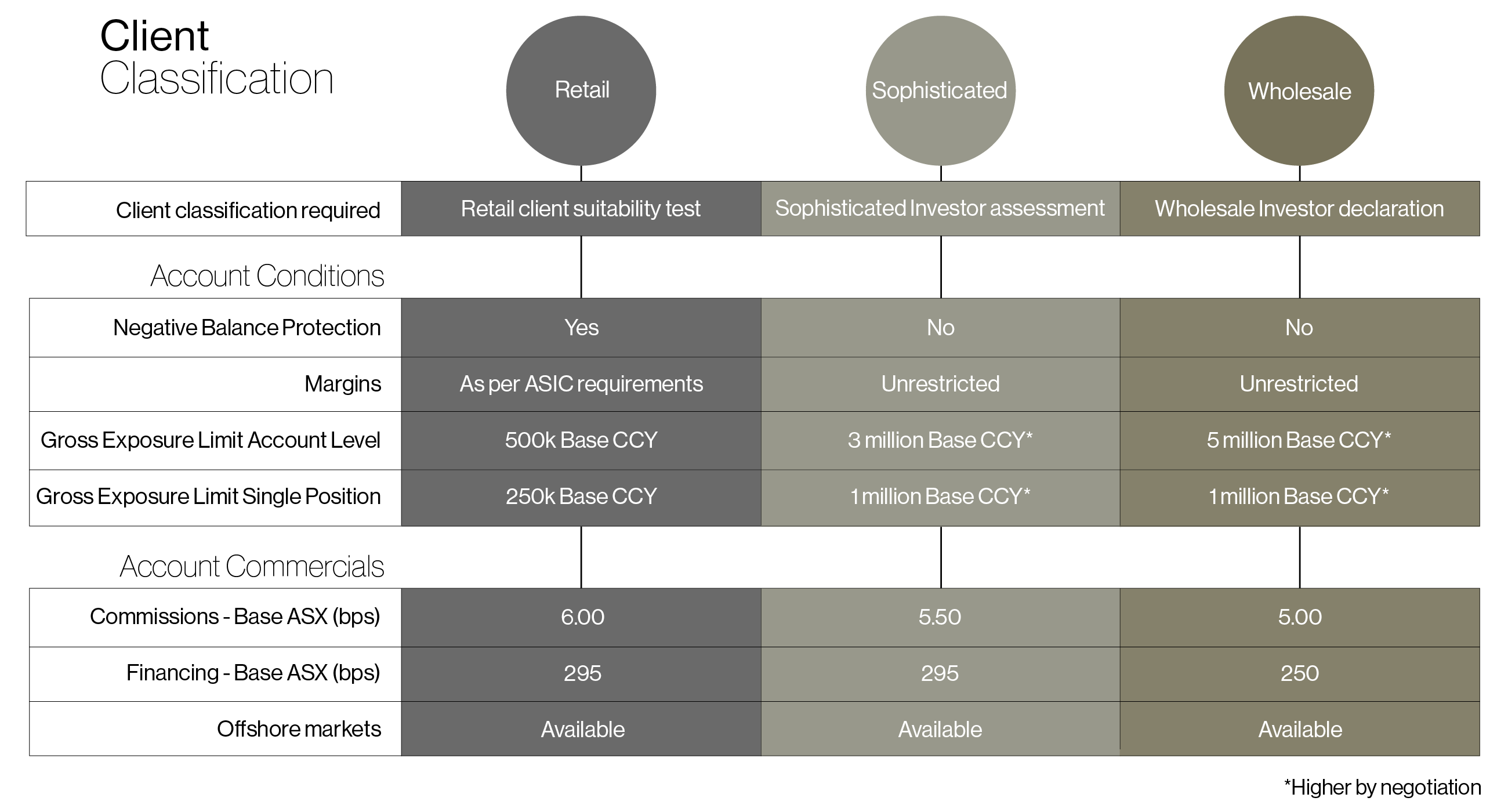 Frequently Asked Questions



Can I hold a Sophisticated Investor or Wholesale Investor account if I have a corporate, trust or joint account structure?
Yes. For the Account types above, all of your named Directors, Trustees or account holders need to be approved as Sophisticated or Wholesale Investors in order for the account to be classified as a Sophisticated or Wholesale account.
Can I hold more than one account under different account classifications at the same time?
No. You can only be classified as one as a single investor type at any point in time.
Can I opt out of a Sophisticated or Wholesale Investor account status?
Yes. You can opt-out from being classified as a Sophisticated or Wholesale client and return to retail client status at any time. Please contact our Client Coverage team to submit this request.
Who can I contact to discuss trading account types?
Yes. You can call our 24 hour client coverage team on +612 9083 1333 or email us at invastsupport@invast.com.au
ASIC product intervention changes



In summary, from 29 March 2021, ASIC's product intervention order will:
1. Restrict CFD leverage offered to retail clients to a maximum ratio of:
- 30:1 for CFDs referencing an exchange rate for a major currency pair.
- 20:1 for CFDs referencing an exchange rate for a minor currency pair, gold or a major stock market index.
- 10:1 for CFDs referencing a commodity (other than gold) or a minor stock market index.
- 2:1 for CFDs referencing crypto-assets.
- 5:1 for CFDs referencing shares or other assets.
2. Standardise CFD issuers' margin close-out arrangements such that all open positions will be reduced or automatically closed out if a client's net equity falls below 50% of the initial margin requirements. Invast is obliged to keep closing out until net equity is equal to or greater than the above aggregate close out protection amount.
3. Protect against negative account balances by limiting a retail client's CFD losses to the funds in their CFD trading account, and;
4. Prohibit giving or offering certain inducements to retail clients (for example, offering trading credits and rebates).

Tokyo Office
NBF Toranomon Building,
1-6-21, Nishishinbashi,
Minato-ku, Tokyo,
Japan 105-0003
Sydney Office
Level 27, Aurora Place,
88 Phillip Street
Sydney NSW 2000
Australia




"Invast Global" is a registered trading name of "Invast Financial Services Pty Ltd". Invast Financial Services Pty Ltd (ABN 48 162 400 035) has an Australian Financial Services Licence (AFSL) issued by the Australian Securities and Investments Commission (AFSL No. 438283) which authorises it to carry on a financial services business in Australia. The information contained in this website is of a general nature only. The information does not constitute advice or a recommendation to act upon the information or an offer and does not take into account your personal circumstances, financial situation or needs. You are strongly recommended to seek professional advice before opening an account with us. Trading in FX and derivatives carries significant risks and it is not suitable for all investors. You may incur a loss that is substantially greater than the amount you invested. Please read our Financial Services Guide, Product Disclosure Statement, FX & CFD Terms & Conditions, Risk Disclosure and other disclosure documents on this website. You do not own, or have any interest in, the underlying asset. Fees, charges, brokerage and commissions apply, refer to our Fee Schedule for further details. We do not provide advice or recommend the acquisition or disposal of a CFD, and the products and services are provided on an execution only basis. We do not provide managed discretionary account services. Invast Financial Services does not accept applications from residents of Japan or the U.S. and does not directly solicit business in Japan or the U.S. This website is intended for persons located within Australia only and is not directed at any person in countries or jurisdictions where the offer of such financial products is not permitted or is unlawful.
© 2020 Invast Global All Rights Reserved